I know I say this all the time, but I promise I always mean it! I was so excited when Madeline contacted me about shooting her wedding. The two of us had Photos classes together in high school when I was a sophomore. During our Skype meeting (She's a teacher in Ohio currently making a face to face pretty tough!) we reminisced about our classes, taking pictures of each other for projects, field trips, the dark room, etc. As we were talking it occurred to me that I actually had a print or two of her that I had developed in the dark room, and I actually remembered where they were! So as we were talking I pulled it out! So crazy to think I have a picture from when we were 15/16, and now 10 years later I'm taking her picture again for her engagement/wedding! How time flies!
The photo on the right is the image I had of her from a field trip to Chicago we took with our photos class!
Like I mentioned, he's a teacher in Ohio, and her fiancé Frank is up in Appleton, so scheduling our session took some planning. Luckily we were able to find the perfect day (two days before Christmas!) to get together. We chose the Woodstock Square (I love this spot!) which is actually where Groundhog Day was filmed. As a side note: I'm always surprised at how so many people who grew up in the area like I did, don't know that fact! I figured everyone knew that! But I still find people who are shocked when it comes up in conversation and had no idea!
It was pretty much the perfect weather for a winter engagement session, I've had some brutal ones before (negative windchill, eek!) so I'm always thankful for sessions where it's hovering around freezing. And as if on cue, it started to snow the most beautiful picturesque snow! It was stunning!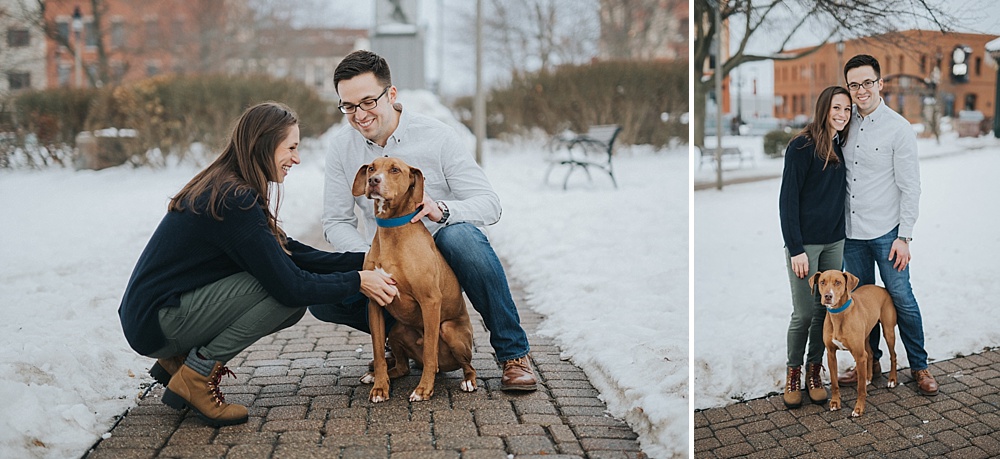 As we were walking though the square we noticed that there were a bunch of already made snowballs sitting on a bench...naturally Maddy grabbed one and started a snowball fight with Frank! So if you were in the Woodstock Square, 2 days before Christmas, and you made a bunch of snowballs for a snowball fight, and then they mysteriously disappeared....I wanna say I'm sorry, cause you probably spent a few minutes making them....but also...you did leave them unattended on a bench in a busy square. :)
This snow!!!! I can't get enough of it!